Blankets for Winter
Cold has wrapped the Northern great plain in a gelid hug. At night in this season temperatures can fall close to zero putting the life of millions of poor people at risk.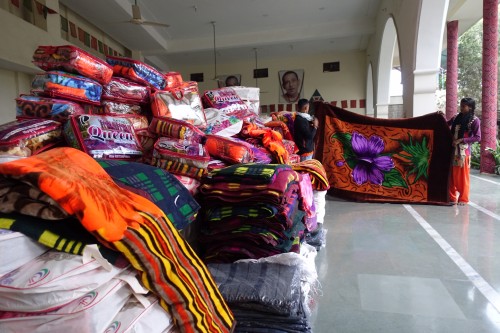 In the plain temperature ranges are important, summer is scorching and winter cold, although short. Most of the population who lives in extreme poverty has no sufficient means to face this situation while the consequences of the heavy lock downs have exhausted even more the financial resources weakest families use to face the coming of low temperatures.
Through a funding campaign supported by many generous people, the Ashram could buy many blankets and give them to needy people.
The kids of our school have come first, followed by the elderly people of the poorest families from the villages close to the ashram, and by the fishermen and manual laborer's families living on the banks of the river.
We had to contact many shops to buy a large number of blankets on several occasions.
After providing for the needs of people living nearby, we have rented a boat to reach the ghats of the city and give blankets to the sadhus and beggars living there.
Anil Baba, the sadhus and the residents of the Ashram, helped by many of our former students, have worked very hard for several days to make all this possible.
In this period we have given out more than one thousand three hundred blankets. Many of our kids and children have got sweatshirts and tracksuits.
Many thanks to the ones who have supported this operation financially.