Baba Kina Ram Ramshala Ramgarh
Baba Kina Ramji Samadhi, Ramgarh 2003
Baba Kina Ramji's Ramshala is in Ramgarh, a few dozen kilometres from Varanasi. This is the same native village from which the young Baba left at the beginning of his search.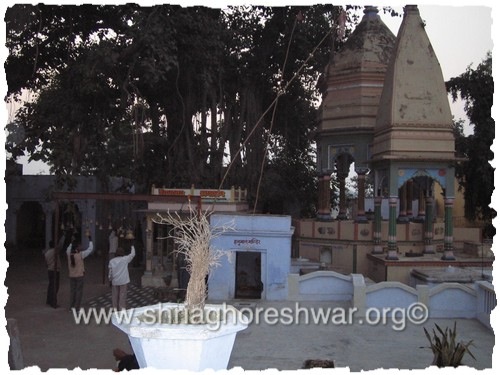 When Baba Kina Ramji, after establishing Kashi's centre under Baba Kalu Ramji's direction, went back to his village after a long time, great honours were rendered to him. On the villagers' pleas  Baba Kina Ramji founded this ashram which soon became an important Kinarami centre. A big well was dug on Baba's demand, and its water turned out to be curative. By drawing water from one of the four sides, this water has different therapeutic properties.
Samadhis of Aghoris, Ramgarh
Baba Kina Ram's reputation brought large donations and legacies which were used for the welfare of the community and sadhus. Today Ramgarh Ramshala is run by a local committee and in the last years it has gone through heavy restorations.
Succession of Ramshala's Mahants, Ramgarh, Varanasi.
1. Baba Kinaram,
2. Baba Bija ram,
3. Baba Vishram Ram,
4. Baba Hubbaram,
5. Baba Bakkhar Ram,
6. Baba Ramdas,
7. Baba Hira Ram
8. Baba Jhuri Ram,
9. Baba Buddhu Ram,
10.Baba Visarjan Ram.
Baba Vishram Ram was a Kshatrya boy. His devotion for his own Guru was exemplary. Once the people of a village, to have the real proof that He was the disciple of a great Guru, challenged him to walk over some live coals. He accepted this challenge and before measuring himself against this number he remembered his Guru and surprisingly, at the end of this try, his feet were not suffering from any burn. But when he came back to the ashram he noticed that Baba Kinaram's feet were burnt. Realizing what had happened he felt very embarrassed and sorry and the Guru even scolded him for showing off that miracle. The effect of this thing was that He swore to remain silent for all his life. He acquired several prodigious spiritual faculties and there are still his followers in Hyderabad.
Veranda where Baba Kina Ramji used to meditate (Kina Ram Tapasan)
Baba Hubba Ram too was born in a Kshatrya family. When He was mahant, He coordinated all the four Aughar maths (monasteries). He used to travel and his retinue were elephants, horses and other respectable symbols. He was a very high-level sadhak and working for people's welfare was his only purpose.
Baba Bhakkar Ram was of Kalwar caste and he was born in a rich family. Even if he was a sadhak he was proud of his wealth and prestige. Once it happened to him to get closer to an elephant and the mahut taking care of that huge animal repulsively said to him: "Sir! The elephant is nervous!" But he didn't worry about that and the elephant crushed and killed him. This fact definitely reveals that if someone still has even a little pride for family, caste, character or wealth, he should not be a mahant attending to the regency of a Kinarami's place.
Baba Hira Ram was born in Punjab region. That is the reason why he was also known as Punjabi Baba. He was impartial and good looking. He had been a yogi since childhood. Someone believed that actually he was no less than one Balkhandi Baba who was used to roam through the plains of Nepal.
His successor to the regency was Jhuri Ram Baba, a young Kshatrya. Ramshala, while he was running it, progressed a lot. After Him, Baba Buddhu Ram had to look after the sthal. At the time he was running the ashram, works for the building of a secondary school were started. Baba Visarjan Ram, his favourite disciple, is the last mahant. He was born too in the Kshatrya Raghuwanshi dynastic line. He is a capable practitioner and a simple person. His important contribution to improve the circumstances of the people of the region was praiseworthy.