Gururatna e Guru Baba
Shri Aghoreshwar, Guru Baba e Gururatna – Paraw ashram 1980
Gururatna and Guru Baba (names given by Shri Aghoreshwar itself) are the first Italian Kinarami Aghoris, disciples of Shri Aghoreshwar from the seventies. Guru Baba arrives in India for the first time in 1977 and in December he came in contact with Baba Rajeshwar Ramji. On January 1978 he meets Shri Aghoreshwar Bhagwan Ramji and becomes His disciple.
He gets Aghor diksha from the Master and stays there for some months living at the Kusth Seva Ashram of Paraw, Varanasi. On February 1978 he is present for the Abisheka of Shri Siddharth Gautam Ramji at Krin Kund. He goes back in 1979 with Aghorin Gururatna who becomes disciple of Shri Aghoreshwar during the Maha Kumbha Mela in Allahabad. In 1980 Mast Ramji and other Italians joins the two to visit Baba.
Guru Baba is the only western initiated, in 1981, by the Master in Kapalika practices and in 1985 he is present for the first time at Guru Purnima in Varanasi, witnessing the huge crowd gathered for Baba Aghoreshwar.
Gururatna e Guru Baba will visit the Master even when he will go to the States for medical treatments, spending with him Guru Purnima in New Jersey in 1988 and in New York in 1992. On November 1988 Shri Aghoreshwar comes to Italy for the first time and the Master designates the Gururatna and Guru Baba's house as his personal Italian residence and Aghor ashram for the West. Shri Aghoreshwar will come to Italy four times till Diwali in 1991, attracting many people and collecting new devotees.
In 1989 Gururatna and Guru Baba with a delegation of Paraw ashram attend the gathering for the Maha Kumba Mela in Allahabad. Despite their work and family obligations, during the following years they won't miss the opportunity to spend time with the beloved Guru. On February 1992 Gururatna will go with Shri Aghoreshwar in the last tour through the ashrams in the heart of India before the Master's departure for United States.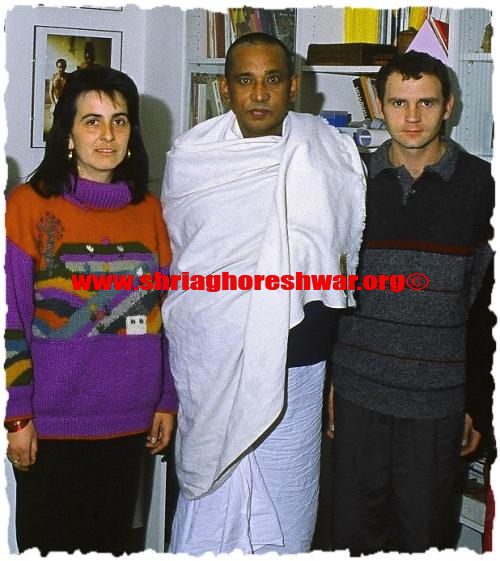 Shri Aghoreshwar leaves his mortal remains in New York in November 1992 and enters Nirvana. Guru Baba and Bhagwan Bhadra are there and will follow the Master's body to Varanasi for the cremation ceremony. In February 1993 Gururatna brings from Varanasi an Kalash (Urn) in memory of the Master, building a Samadhi of Shri Aghoreshwar in Italy too. On September 1995 Guru Baba and Gururatna found the association Shri Sarveshwari Samooh Italy that gathers Shri Aghoreshwar's Italian disciples and devotees together.
In 1998 Guru Baba and Baba Surya Dev Ramji (Anil Baba) start the association Pujya Maa Shri Sarveshwari Seva Sangh next to the Samadhi of Shri Aghoreshwar on the banks of Ganges River in Varanasi (Benares). Guru Baba visited throughout the years many Siddhapith (perfect places), Shaktipith (places of spiritual power) scattered over the subcontinent, making offerings in the most important sites linked to Aghoris and to Indian spirituality: from Kailash-Manasarovar to Kannyakumari, from Girnar and Somnath to Kamakhya Devi passing through Vindhyachal, Kalimath, Vaishno Devi, Ghora Devi, Amila Devi, Chitrakut, Phullahari, Tiruvannamalai, Amarkantak, Gaya, Allahabad, Kapaleshwar in Madras, Pashupatinath and Dakshin Kali in Nepal.