Ardh Kumbh 2019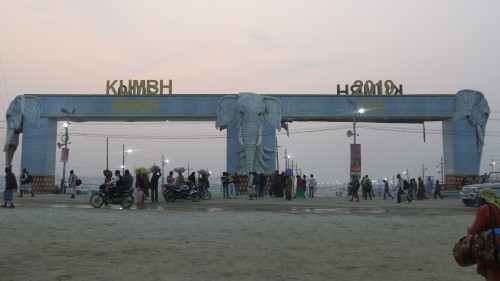 Ardh Kumbh is held at Prayagraj (Allahabad) six years after twelve years Maha Kumbh Mela. Perhaps the area prepared is the largest ever destined for this event and many embankments and excavation works of the banks and of the river bed have become necessary. Thousands of people – newspapers says five-six thousand – have been working without stop for months, day and night, to prepare the place and everything has been reported through an effective media battage. A very huge number of soldiers, policemen and volunteers were put in charge of setting up and safety of the place.
Millions of pilgrims gathered at the confluence of the holy rivers from mid-January to the beginning of March. The days before the main dates of the baths even the access to the city was closed so that many people had to walk for many kilometers with their luggage to reach the camps of their institutions or to be present even for just one day.
In December 2018, after obtaining a lot for our organization, we started to book the tents and the other services we should install. Three big tents, a kitchen made of corrugated iron, toilets, all in an area delimited by zinc-coated corrugated iron, safer in case of fire than the boundaries made of canes and natural material, as they were built the previous years. Fires are rather frequent during Kumbh Melas as straw, brushwood, wood and flammable materials are usually used inside the camps.
A few days before the official start, we filled the tractor wagon and the first sadhus left to prepare our camp. On the way to Prayag, the new name given to Allahbad by a government's action aiming to bring the old Hindi and Sanskrit names back, there were many roadworks next to the biggest towns to provide them with causeways to avoid city traffic. This caused traffic jams and delays for those who were going to the confluence of the holy rivers. Our tractor took more than seventeen hours to get there when in previous Kumbh Melas it took only seven or eight.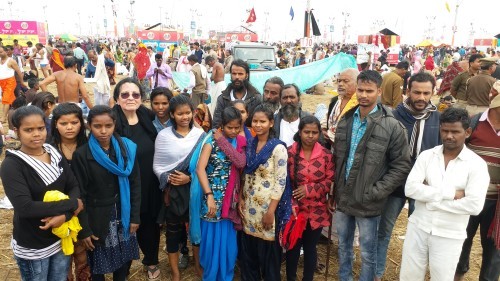 After some days, Anil Baba and Guru Baba went to Prayag but, when they reached, they found the road was blocked because it was two days left until the first bath. With many difficulties and some insistence they passed the block and went to the camp where everything was ready and they helped finish last necessary works.
Guru Baba came back to Italy in early February and Gururatna went to Varanasi and then to Prayag to attend some important dates. Many Sadhus from different Ashrams linked to Baba Aghoreshwar stayed at our camp, many disciples, our doctors with their families, teachers with the boys and girls of our Ashram reached the place on different days.
It was a time of peacefulness, spent inside the joyful happiness of Aghoreshwar, in a place that gathers Sadhus, believers and devotees coming from every corner of India. An opportunity for meeting, discussion and exchange at the one that is considered the biggest meeting of human beings in the world. An experience one should live at least once in his/her life.
The camp stayed open until Shivaratri, Ardh Kumbh's end date.