Guru Purnima Mahotsava 2015

 
The annual celebration of Spiritual Master, Guru Purnima, was on the last day of July. Guru Purnima means Full Moon of the Guru and the anniversary falling in this month of the Indian calendar is dedicated to Him. Disciples and devotees celebrate it with great devotion and respect. Guru Purnima is the ideal day to get His blessings and protection.
 
In the previous weeks we painted the centre, looked after greenery, set up the area to welcome the guests, rented the equipment for the event, got the Prashad to be served to everyone. Marcello worked with residents and other volunteers of the association. In the meantime the activities of the hospital and school went on.
Little boys and girls practiced chants and dances in the biggest classroom. In the morning the pupils of our school, in the afternoon the older girls who attend middle and high schools in external institutes thanks to the Italian supporters. For them this means great fun and escape from their daily and often hard life.
 
The days just before the event many devotees and friends, that always come to help manage the thousands of visitors, arrived. We need many people to welcome guests, cook meals, serve Prashad and get the children ready for their performances.
Early in the morning Anil Baba and Guru Baba, followed by sadhus and disciples, did the Aghor Digbhandan for the Siddhapith under a misty rain. Then Guru Baba and Anil Baba made offering to the Dhuni. The raising of the flag of the association gathered everyone together before sadhus and guests made another offering. Ten minutes of heavy rain made the air cooler.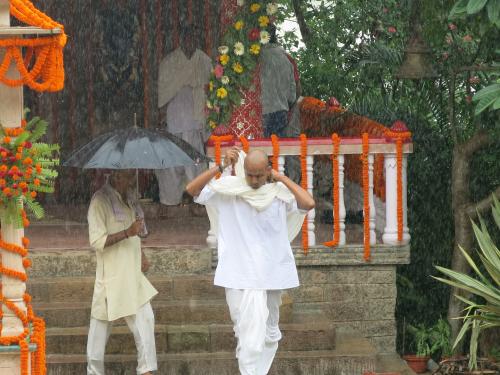 In the meantime the many visitors come to pay homage to Shri Aghoreshwar and the Babas started arriving. Breakfast was given to everyone while in the kitchen people was preparing lunch. To satisfy everyone we served thousands of meals. In the afternoon we gathered under the big tent where we mount the stage for the performance of the kids. The guests, members and Babas addressed the audience to describe the meaning of this day and the activities of the centre.
Meanwhile, off the stage, the little boys and girls got dressed and put make up on for the shows. Their performance galvanized everyone until late in the evening.
Then groups of local singers sang until late in the night while dinner was served to the people present. More than two hundred people spent the night in the ashram.
It was a peaceful and happy day thanks to Shri Aghoreshwar's perceptible presence and blessings.