On the banks of the Ganga
Viviana and nursery school first class
I left at the beginning of July to reach our centre in Varanasi, to celebrate Gurupurnima and work with the kids of Shri Aghoreshwar Gurukul school. It's the second time I come here and I've decided to leave alone, aware that then I wouldn't be by myself because there are Gurubaba, Anil Baba and the other people residing at the ashram waiting for and welcoming me.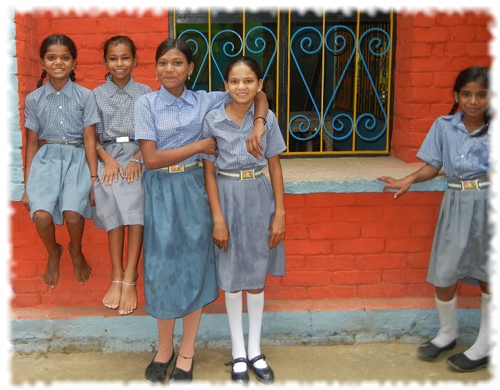 A group of friends
As soon as I get off the plane, an as hot and muggy Varanasi as it has to be in this season, receives me. I look forward for getting there and enjoying the peace and beauty of the place.
Kids at every latitude have good time with ring-a-ring-o'-roses
Greenness is luxuriant, flowers – red, white, yellow – are wonderful, squirrels run everywhere looking for some food to crunch and some cloth with which they make their lair soft and comfortable and crows accompany you with their cawing voice. And then, there it is, the river. Close, fast. It rises and runs down depending on rain intensity, so much so that it reaches and goes beyond the gate at the school side and then subsides again, letting the old boat, before completely submerged, breath.
August 2011 exceptional flood
I sit down often to observe it, I like it, it calms me down. A world is before me, apparently unvaried but that to a watchful eye reveals ever-new details and shows all its richness and liveliness. Animal, mongooses, monitor lizards, dolphins, cows at grass, buffalos on the opposite bank, the kingfisher, very beautiful and colored butterflies and fishermen on their boats casting and hauling in their nets with patience and skillfulness, their skin darkened by the many hours spent under the sun. When the wind rises or in the silence of night, one can even hear the noise of small waves gently breaking on the bank at a constant rhythm.
Swimming in the natural swimming pool thanks to the flood
Few days after my arrival, I am present at two marriages. I go up on the temple and mingle with the guests to watch the ceremony. The atmosphere is serene, the brides and bridegrooms seem a little bit tense, but I think it's normal considering the moment. Everything goes on very calmly and the "I do" is always moving.
One of the marriages at the ashram
During the first week of my stay, preparations for Gurupurnima are in full swing and I, too, decide to contribute teaching to a group of first class little girls a simple song in English to be sung during the show that would be given on that day. My "girls" are enthusiastic about this idea and, at once, apply themselves to learning words and gestures by heart.
Little girls learning Viviana's song
Baby, one of the teachers, helps me writing out the text in Hindi to make the pronunciation easier for the kids. In two days they know it by heart and don't get tired of rehearsing again and again. The hours I spend with them are very enjoyable, the rehearsals are often an opportunity of playing, joking and chatting, out of the classroom.
Viviana's small group
During the show, after welcoming the guests, my group is among the firsts to perform and, even if they are so young, they prove to be very good and don't let the large audience frighten them. After their performance, I go and congratulate them who welcome me with large smiles and I thank them for their dedication.
Girls singing during Gurupurnima
The day of the Guru turns out to be a very special experience, full of emotions. It's the first time I pass it here and so I am very curious. I wake up very early as I want to enjoy every moment. People pouring into the ashram are very numerous. The chants of women and kids sitting under the neem keep us company for all the morning. I take some time to observe what is happening in the different areas of the ashram. There are many people working, especially in kitchen. They clean and cut vegetables, cook sabji, fry puris, without getting tired, even if the day is very hot, while, in the school area, people prepare the spaces for having lunch and rehearse for the afternoon show.
Singing rehearsals for Gurupurnima
It's a very long day but I don't feel tired.  In the night I have good time watching the theatre play, the costumes, the gestures of the actors, so different from the way of playing I'm used to, and then, after dinner, I get asleep with background bhajans going on until late in the night.
The fossil park on Vindhya mountains

The following day we plan a trip to mountains Vindhya that gives me a joyous surprise. While we are driving, we meet two men on elephant-back. The elephant is one of my favorite animals, but I haven't seen any live so far, and now, here it is! When Anil Baba asks me if I want to stop to watch it and if I want to have a ride, I don't miss the opportunity. I have realized that climbing on en elephant is not that easy! Anyway, the short ride was very funny and…a little shaking.
The emotion of riding an elephant
When we reach the fossil forest, I am struck by the contrast among the intense green of the plants, the brick red of the ground and the brown-grey of the rocks, there since unimaginable times. It seems that we are in a fabulous place, so particular its nature is. It's a pity that we cannot enter more because of the bad weather!
Fossil stromatolites
The following week I start working regularly with the school kids. I devote myself most of all to the youngest ones, nursery school and first class children, proposing a mini and very simple art workshop, so that I don't need too many words to make me understood. Promise for my homecoming, learning Hindi, essential for communicating in depth with them. Actually I start the workshop with the fourth class, but for them, somewhat grown up now, the work is really too simple, they end it quickly but their results are excellent.
The peacock
They only have to plot the outline of their own hand and then draw a peacock, an animal the kids know very well. Then, after finishing the peacock, the activity goes on with other animals – a mouse, a spider, a frog, – they enjoy drawing and coloring.
Fourth class and the art workshop
I like noticing the differences between one kid and the other and answering their calls for help when they cannot draw some parts. Peacock's claws and mouse's tail are the ones that give more problems!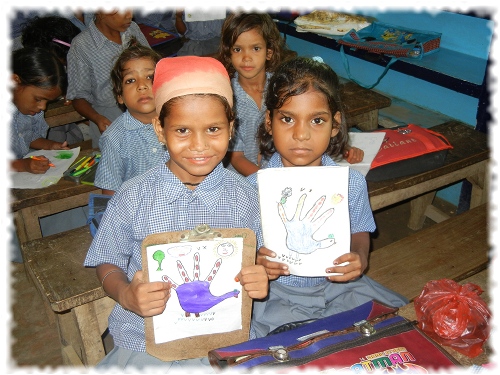 First class grappling with the peacock
Some of the kids, even though they are so young, show remarkable artistic talents. Art and drawing are subjects they follow from the beginning of their course of study, and therefore I'm happy they can cultivate and improve these aptitudes in the following years, too.
Fourth class kids
Enrolments at school aren't closed yet, new kids, especially very little, keep on joining. Nursery school classes are the most numerous, and they are four now to allow the pupils to attend lessons in the best possible way. I think we'll have more students than the last year.
Enrolments go on for a long time…
In this initial stage work is very intense. There are the new pupils to be settled in, the classes to be formed, the book to be distributed, school activities to be planned. In this period the kids come to school only in the morning but in short time school timetable will be changed and they will stay until four in the afternoon.
Preparing the books to be distributed
Morning will be devoted to regular lessons; afternoon, after lunch break, to homework and practical and manual activities, allowing the kids to give vent to their fantasy and creativity, and to playing, of course, a lot of playing.
Playing and fun, not only study…
Here kids are happy, have attention, consideration, a lot of space for running, moving, playing, having good time and enjoying childhood cheerfulness, sometimes denied to them by their hard living conditions. The result is that they don't want to go home! The older kids, who now study in the schools outside, come here also on Sunday to do some easy work, or just to stay together, and it happens that they stay for lunch, proving to be experienced cooks.
Viviana and two of the young teachers
Activities are intense not only for our school but also for the kids supported in the school outiside who go on with their studies after the primary school. Thank to the support of many people, it is possible to give them this opportunity and cover the costs of fees, uniforms, books, notebooks and all school materials they needs. However work is not only enrolling the kids and covering material expenses. Dedication, care, attention Anil Baba and the other people who, here at the ashram, follow this activity, give to these kids are enormous. Of every girl and boy they follow progresses and difficulties, know their family situation, try to make up for any gaps and help them during their studies providing them with a tutor who follow them in the morning or in the afternoon according to the school they go to. Commitment towards them is daily, constant and rises from the awareness that education can really change the life of these kids, all belonging to low-caste or outcaste families, improve their living condition, often very precarious, those of their families, and, why not, of the society they live in.
The youngest ones receives their books seriously
Last days are marked by the arrival of Guru Ratna who sets to work soon. I like staying with her and I'm happy she is here. With her we do some gardening with fourth and fifth class kids and then with the older ones. Girls and boys devote themselves to this activity with enthusiasm and a tasty samosas and very sweet long latas based break makes everything even more pleasant.
Gururatna and some of the teachers
And so leaving gets near. Separation is very strong. I leave with Anil Baba wishing me to be happy. And some sadness is inevitable leaving the calm, the peace, the slow but active rhythms of this really unique place that allow you to express yourself at your best without asking you anything but to be yourself.
The first class
However I leave also aware that here in Italy we have to go on working constantly, apply ourselves even more so that all this can get on and grow.
Viviana with the littlest kids
Hoping to come back as soon as possible.
With love,
Viviana