Emotions
Roses were floating rocked by the little waves of the Ganges in a perfectline near the very long mala of flowers and leaves that from the bank reached the middle of the river.
There was no wind, the rays of the sun glittered on the water and silence accompanied us on the boat.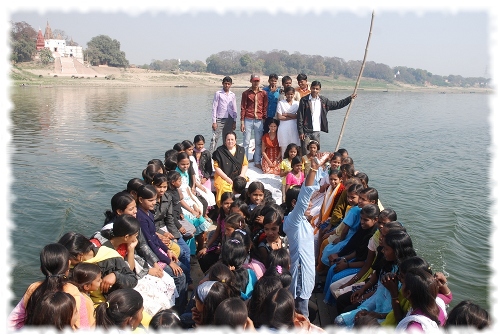 In the boat on the river
Many kids and Nanda's old schoolmates let petals of coloured flowers and memories of the moments spent with her gliding over the water.
When Puja was over we went back to the river bank joyously singing together Nanda Devi ki jey and Ganga Ma ki jey.
Coming back to the ashram, the littlest kids vanished from sight among the high mustard plants, full of seeds. This year, too, our harvest will be abundant and the oil very good.
Anil Baba checks girls' homework
Day had begun very early and everyone was busy, the smell of spices mixed to the previously cut onions came from the kitchen, vegetables, ready to be cooked, formed coloured little mountains and fires were already burning.
The menu of the day was really appreciated: biriani, raita, kir and vanilla pie for everybody!
Today is a holiday and we want to remember Nanda with joy, as usual kids have been working hard to prepare a brilliant musical program.
Dancing with joy
Some girls of the tabla course played accompanied by their teachers, the group of the singers and harmonium players presented some new songs that have been very cheered and dance collected the kids of all classes together in beautiful performances.
Budding tabla players in the garden
Many parents and friends came to the school party, and there were also our doctors, happy to see the progress of our kids, their constant effort and happiness for having the possibility to attend our school.
Happy in the classroom
Kids are always engaged in many activities but there is always time to play or to sing an Italian song and even playing a good ring-a-ring-o'-roses can take much time!
Ring-a-ring-o'-roses…
The sport week ended with the prize-giving ceremony for the winners of the different disciplines, everyone took part in it, happy to share their passion for sport and playing.
Towards the finish…jumping
As usual many patients with many different pathologies come to the hospital and our doctors bring their help and professionalism without sparing themselves.
We performed a lot of eye operations, gave glasses free and did many medical camps in rural areas, and not only that.
Medical camp in Bihar
By request of Benares central prison director, where convicts serve a final sentence, a life sentence for many of them, we did a medical camp on the inside.
Inside Varanasi prison
It was a deep, very touching and full of emotions experience.
In front of me I saw only defenceless human beings, dignified, suffering and in need for attentions and cares.
Doctors visit the prisoners
We brought a special machine for eyes inspection, we gave glasses, medicines and prescribed operations that will soon be done; acupuncture, magnetotherapy and equipment for the eyes were something new inside the prison where nobody ever goes to bring help and hope to those who are living for many years in extreme precariousness.
Eye test for everyone
Many elderly men, some of them more than eighty years old, locked up and forgotten for crimes that, sometimes, they haven't even committed.
We distributed books, paints, and also sweets and candies they immediately ate, I can't forget all those hands reaching out towards me, respectfully asking for receiving something.
Gururatna gives sweets
They were very glad about our visit and the afternoon we spent together; many of them are forgotten even by their families.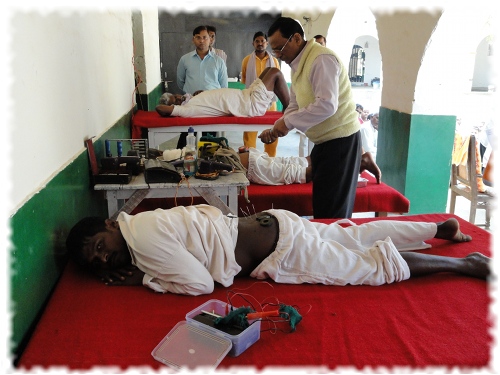 Acupuncture and magnetotherapy
I'd like to say much more but the emotions I felt and I'm still feeling now are so strong, indelible and I'm moved to tears…I can really feel their suffering.
Gururatna
Medical camp inside the prison

S.K.Pandey , director of Varanasi prison