Indian Chronicles
Some of the youngest girls
It's early in the morning, I'm walking in the garden and a multitude of little white flowers falls down from the teak trees, a light haze wafts over the river embracing the Ashram and a smell of jasmine is in the air.
Boys on trip to Ramnagar
Silence is broken only by an orchestra made up of musicians cheerfully jumping from one branch to the other of pipal tree (Ficus Religiosa) and then flying on the neem (Azadirachta Indica).
Meeting with the parents
Many fishermen cast their nets without a break and if the level of the Ganges keeps on rising, boats will be soon gliding near our boundary wall.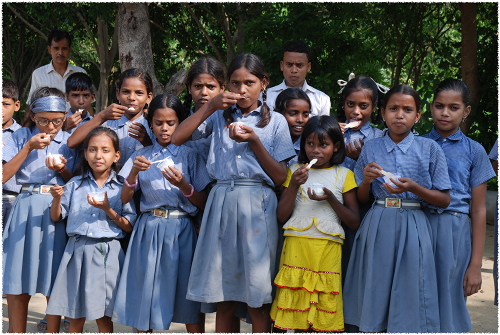 Little girls like ice cream…
After a long time I saw again a river dolphin (Platanista Gangetica), at long last! I was thinking they had all disappeared but the river is always full of surprises.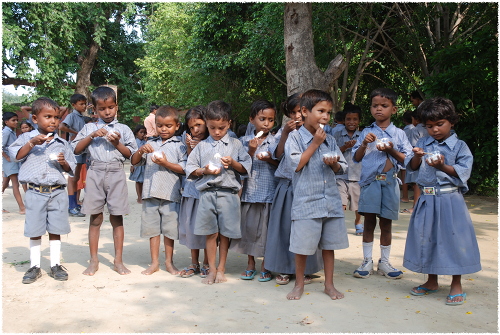 but boys too…
Grey clouds leave space to the first rays of the sun mixed with a light drizzle, there is always a lot of humidity and hot weather doesn't give a moment's respite.
Day begins very early for everybody, there is always a lot of work to do, ashram's fields ploughed and sown are a meeting-place for birds, peacocks, squirrels always looking for seeds and vegetables to celebrate the monsoon going on and I will extend my stay too to follow the works started at my arrival such as the painting of school, furniture for the office and many new projects which needs time and attention.
Carpenter working for the new office
I've bought a big tree trunk from which we got the wood to make the furniture that a very clever carpenter is assembling.
Drinking milk directly at the dairy
With the third, forth and fifth class kids we visited a dairy. Milk is pasteurized and then packed in Tetra Pack through modern machinery, everybody has been following the working process with great attention, happy to see a reality they didn't know; we buy in this dairy the milk for our kids' breakfast.
At the entrance of the dairy
On the way back we visited Ramnagar Fort, the ancient residence of the Maharajas of Benares, where it's still possible to admire ancient relics, and after drinking a very good lassi and eating hot samosas, we came back to school.
Lassi for everybody
Several meetings with parents and boys and girls of secondary and high school have cleared up still existing problems, the present teachers are introducing and going into new subjects and music is a constant bond for everybody.
Every afternoon the kids of the school and the oldest girls and boys gather here to play the many musical instruments at their disposal, to sing and learn music.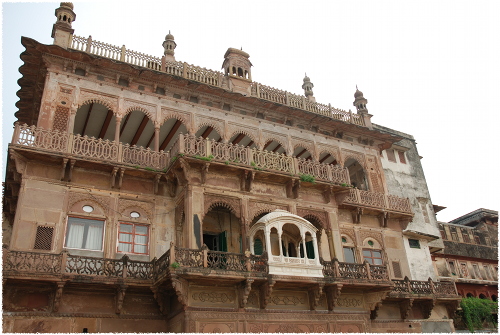 Maharaja's palace
Time flies here, day goes by quickly, drums and bells call for the evening aarti, very easily, with concentration, the depth in divine feeling and the chant Aghoranna Paro Mantro we find ourselves  inside our real and deep being. Jai Aghoreshwar!
Namaste
Gururatna