Having lunch with the Maharaja 2010
Dining room…
On Sunday June 20th we organized a private Indian buffet to present our association and the work we do in Varanasi in the centre of Pujya Maa Shri Sarveshwari Seva Sangh.
Greenstones for cooking

Nella and Domenico kindly welcomed us, with their discreet but immense generosity, and placed their farm in Bellusco (MB), in green and luxuriant Lombard country, at our disposal.
The vegetable dishes are ready
It took a very long time to prepare the event but most of our members worked incessantly to make it successful.
Rice and cereals
This unpredictable summer boded no good, so we kept looking at weather news, hoping for a hot and sunny day but on Saturday in the evening our expectations failed.  At that point we had already prepared all that was necessary and decided to go on in spite of adversities.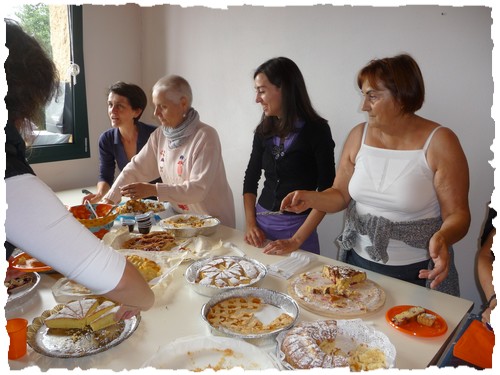 Desserts
On Sunday morning it kept raining but rain couldn't stop us. The day started under a beating rain that didn't bend our determination. Very early in the morning we prepared some beach umbrellas and tarpaulins to be sheltered from the rain but not from the unusual cold.

Beach umbrella and grill
In the morning the temperature was 11° C and we could completely feel it because of the rain and the gusts of wind. Bhagwan Bhadra, Mast Ram, Mimmo, Lorenzo, Marcello, Adelio, Maurizio and Ivano prepared the big steel frame Nevio and Bhagwan made in a very professional way. They placed three greenstones for cooking vegetables and the semi-wholemeal chapatis Massimo kneaded the night before. Guru Ratna, Mariuccia, Adele, Carla, Patrizia, Pinuccia, Stefania, Sabrina, Viviana and Ivana prepared the tables and the dining room, the chapatis, the vegetables, some drinks and all that was necessary to put  our guests at their ease.

Kalyani and Omkar
Under the spacious covered farmyard we put some tables and carpets to receive people who came in spite of the weather. Children ran everywhere, nosing around among kids, donkeys and rabbits. They were excited at being in contact with a world they cannot always live in their everyday life. Among the people present, there are usually many vegetarians who are always very enthusiastic about our food.
Children and kids

Many of the people present sponsor the studies of some boys and girls of our centre and some of them  is thinking of going to see their "adopted" sons to know them personally. Now we support more than sixty kids at secondary and high school and they will keep increasing, while our inner primary school has more than three hundreds twenty students.
Nella  among the guests
After the lunch everybody enjoyed, Kalyani (Caterina), Omkar (Osvaldo), Samarpan (Stefano) and Deborah entertained us with Kirtans (devotional chants), absorbing all the people present, while little girls danced cheerfully.
Kirtans and girls dancing
It was a great success. Not even the rain could spoil it.
Heartfelt thanks to Nella, Domenico and their family who support this annual invasion and to all the people present and their joyful happiness.
See you next time!