Having tea with the Maharaja
October 18. Autumn. Cold weather is coming. So what's better than a good cup of steaming tea to warm ourserlves up on this Sunday afternoon?

Oh yes, this time we have taken in our head to be pastry chefs and to offer one of world's most drunk
drinks: tea. The landscape all around is the same of our Indian lunches, Nella's and Domenico's amazing oasis where green is leaving space to the warm colours of the season that is changing and going towards winter.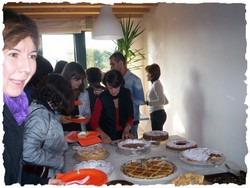 So hot tea and warm colours, like the orange of dishes, glasses, napkins and cutlery ready to hold what the members of the association prepared with enthusiasm. Cakes and tarts, biscuits, mousses, creams, chestnuts and obviously a lot of tea. Its spicy taste reminds of the tea prepared in the kitchen of the ashram in Benares.

And it looks as if people who decided on participating
this time also, helping our activities in India, are really enjoying all that, maybe because they can warm themselves up or maybe because they can get near to that India we are so close to. Ashram, kids, school and hospital images and pictures run on a TV screen and show what is done and has been done throughout the ages.

And longing is strong but the will to devote ourselves to that, to work to the best of our ability and with great sentiment so that everything over there runs well is even stronger. Heartfelt thanks to all the people present and specially to Nella and Domenico for their willingness and help.
Viviana