Gurupurnima Mahotsava
July 7th was Gurupurnima, a special day for Aghoris. The Gurupurnima that used to be celebrated at Paraw ashram – honouring Shri Aghoreshwar Bhagwan Ramji – was possibly the most important one in Varanasi.
When Baba was alive thousands of people used to visit him and ask for his blessing. Even before dawn, a
long queue would form out of the ashram and continued all along the G.T. Road of Varanasi; the following day local newspaper would report about the event and the speech given by Baba on the first page. It was a truly memorable day.
Our boys and girls rehearsed their songs and dances for a couple of weeks, several hours a day, while other residents and friends were fixing the place to host the countless people who would turn up for Gurupurnima. Without us knowing,
some of our older boys staged a dance dedicated to Kali Ma that included a fakir performance: burning torches swiftly moved on their arms and chests. A great stunt indeed.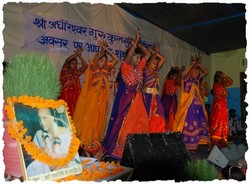 Our members and acquaintances worked full time to wait the crowd, cater to its needs and prepare and serve food. Approximately 3,000 people received 'prashad' (blessed food) at the ashram throughout the day. The total number of visitors was even bigger. Some hundreds people had stayed for the night as of Monday already.
I remember that during our first Guruprunima at our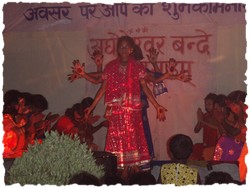 current place, back in 1998, there were only a handful of people. The place was very small and due to the fact that no building or other infrastructure was available to host even these few friends, we had to rent tents and beds.
For years we have been an important centre within Baba's family, and our Guruprunima is the most attended one after those hosted at Paraw and at the Kina Ram Stahl. Many believers visit the Shri Aghoreshwar's samadi on the Gange bank first, and then come for a visit at our temple. An encouraging result that speaks volumes about the popularity and credibility enjoyed by Anil Baba and the Pujya Ma Shri Sarveshwari Seva Sangh.

We lit the Dhuni (fire) the night before, and at dawn we
did havan with Anilji, performed an Aghori ritual for place protection and hoisted the flag of the association. We then greeted the people who came to visit our place, and soon rainfalls started, many of them throughout the day, possibly the final beginning of the monsoon.
Breakfast and lunch were also offered. Around 4 pm we all gathered at the school where the doctors and some other guests delivered speeches. Then my and Anilji's turns came, followed by performances until 7 pm. Around 9 pm we served
dinner, and the last guests ended around midnight. Meanwhile, at the school several musical bands chanted bhajans until 3 am.

Yesterday morning we said goodbye to the guests that had spent the night at the ashram.