An Indian wedding
On June 10th Tewariji's daughter, Pryanka, got married. Those of you who have visited the ashram have met Murari Tewariji for sure. He has been at ashram since the very beginning, since when we were living in makeshift huts while the ashram was getting built. Almost a year elapsed from the moment we bought the land to the moment we inaugurated the centre, during which we lived in ramshackle thatched huts with bricks and mud walls. That plot of land was very small, but big enough to start.
When he first came to the Ashram, Tewariji was very different from now. He has worked very hard since day one, never backing down. He has been with us throughout the hardships, without quitting or leaving. His eldest daughter used to visit the ashram, as a child. Looking at old pictures I almost fail to recognize her.
Marriages are traditionally arranged by parents in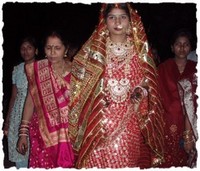 India, and more often that not the bride and the groom only meet at the weeding. Love marriages are not welcome, generally. To be able to find his daughter a husband, a father has to 'buy' a groom: this is the highly debated 'dowry system', that causes several problems to poorer families or to those with several daughters. The groom price is in accordance with his social and economic status: from a few tens of euros for poorer families to unbelievable sums for the most powerful and influential families.
This system has lead to deplorable actions such as feminicide and selective abortion. Our ecography centre for example does not provide parents to be with information about the child's sex so as to avoid such actions.  Shri Aghoreshwar, while trying to avoid this system, had created a system with the Sarveshwari Samooh according to which only a symbolic cost had to be paid: 1 rupee (1 Euro=60 rupees). Several families approved of this formula and celebrated weddings this way at Paraw Ashram.
Next of kin, women especially, come to the ashram a
day in advance to prepare for the wedding. The hut of our naturopathy centre is taken over by them, and will be used to dress and prepare the bride, who will undergo a day of preparation as required by tradition. Men instead will get involved in building stands and stages for the reception, organising the ceremony and welcoming guests.
The day culminates at the temple, with a ceremony of consecration and offer to the fire
 made by the couple. The couple is then declared 'husband and wife'. The wife, after spending a few hours with the husband, gets back to her house with her family the following morning, and will move in with the husband's family only several months later.
Everything went well, I had the chance to talk to the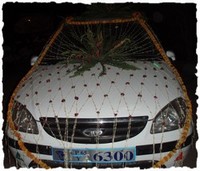 boy right before the final ceremony. He is still a student but has solid values and a good attitude. Pryanka should be fine, the village she will move too is only some ten kilometres from Varanasi.