Guru Purnima Mahotsava 2013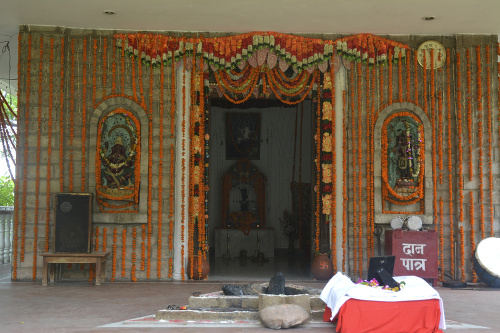 The days before Guru Purnima were a race for preparing the centre for the event. Kitchen area was set up under a tarpaulin while the stage for the afternoon meeting was put up in the schoolyard under a large cloth gazebo.
Cleaning and sanitizing the place, putting lights and decorating the temple and the hospital kept everyone busy until late in the night, involving dozens of members, friends but also school's former students.
 The morning was hot and sunny, and it didn't seem to threaten the violent storms of this season, promising that the program went off easily.
Guru Baba and Anil Baba started Guru Puja day with Digbandhan and then the offering to the Dhuni. Association flag raising ceremony, performed by our special guest Manoj Kumarji, inaugurated the reception.
 Anil Baba and Guru Baba welcomed the guests come for the Darshan until lunch time when they ate with the members, the doctors of the association and about three thousand people.
 Late in the afternoon all the people gathered under the big gazebo or in the shade of the trees of school campus, crowded with a cheerful but orderly audience.
Lawyer B. N. Singh presented the mission and the activities of the Association Pujya Maa Shri Sarveshwari Seva Sangh that aim to provide the poorest classes with basic education and health care through the school and the hospital of the centre.
 Girls welcomed all beginning to sing a song and putting garlands around the most important guests' neck soon after. Singing and dance groups followed one another until evening when our doctors and guest wanted to address the crowd. Guru Baba and Anil Baba's speeches closed the meeting.
 Many groups from the city and the province followed one another on stage singing popular devotional chants dedicated to Baba Kina Ramji and Aghoris, ravishing the audience that stayed until late in the night.
 It was a peaceful and serene day in which we could feel Shri Aghoreshwar's sweet presence and grace in this Timeless Place.