Mahanirvana Diwas 2012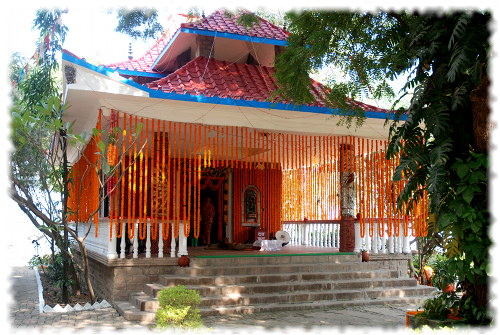 This year is the twentieth anniversary of the Mahasamadhi of Shri Aghoreshwar Bhagwan Ramji and the preparation of the centre for Mahanirvana Diwas annual event started several days before painting the buildings and the external walls specifically.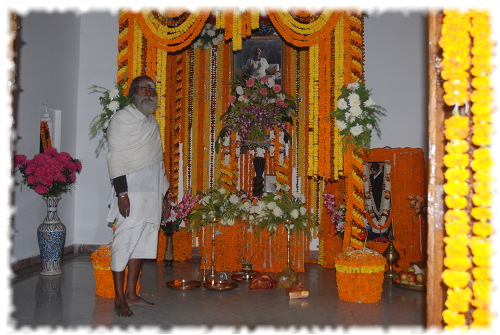 The dhuni was lit nine days before and will keep on burning until the end of Mahanirvana Diwas. Guru Baba and Anil Baba performed the Aghor Digbhandan puja and the opening Havan.
The last days required a great organizational care to arrange what was needed for the estimated large stream of people. The place was cleaned and disinfected, then an area was devoted to the kitchen with two big brick stoves covered with clay to cook sabji and puris. In the school square a big pavilion was installed to host the stage for the performances of the kids and the audience. Lights were placed everywhere and both the hospital and the temple were covered with small lights. The interior and the exterior of the temple were decorated with flowers in profusion, most of them were French marigolds.
During the last two or three days there were a lot of workers, cooks, painters, electricians and volunteers of the association Pujya Maa Shri Sarveshwari Seva Sangh coming and going.
In this period the weather has been mild and so Mahanirvana Diwas morning was fine and tepidly sunny. After Anil Baba and Guru Baba performed the Havan early in the morning, they started to receive the guests and breakfast was served.
As expected, at lunch the ashram was full and many people sat to take prashad.
In the afternoon we gathered in the big pavilion where B. N. Singh read the annual report of the Association and together with our doctors he illustrated hospital and school activities to the people present. Guru Baba and Anil Baba closed the presentation by giving short speeches to the people present.
The kids of the Shri Aghoreshwar Gurukul welcomed the guests and started the show with their repertoire of chants, dances and sketches. Everyone performed with great conviction what they have learned in the last months. A group of small girls prepared a dance by themselves choreographing it, and presented it proudly and splendidly. The performances of the kids lasted until eight pm then groups of singers alternated until morning singing traditional devotional chants.
In the morning we said goodbye to the ones who stayed for the night and we came back to our everyday life.
A serene and peaceful day spent without a hitch. Thanks to all those who have helped making the day a success.