Shivaratri
Shivalingam
Since early in the morning kids had been chatting in the garden picking flowers and preparing clay for the Shiva Lingam that was modeled with care and feeling under the tree close to the statue of Ganesha.

After doing the puja chants started and went on for a long time, stopping only when the Safera did begin to take his cobras out of the basket.
Saphera with kids
Children like very much looking at and "wearing" cobras, showing courage and respect towards snakes.
The saphera comes always on special occasions, displays his cobras, always treating them gently, stays with us for a while and then, as usual, he arranges to meet me on the next occasion.
Sonu
Shivaratri is a very important festival, especially in Benares, many boats go along the river, full of pilgrims coming back to the city after doing a small parikrama (Pancha Koshi) on foot and visiting ancient temples. The pilgrimage stops close to the oldest temple, Adi Kesava.
On Shivaratri day a very beautiful child was born; we called him Shiva. He is an unwanted baby but his new parents already love him very much and they will bring him up with a lot of love, very glad of being given such a precious gift.
Shiva was born in a very unusual situation but on a special day and I am sure his life will be a very nice journey!
Milk in the morning
Some friends of us, boatmen with a new big motor boat, came to see us and asked us to try it in such a sunny day. With fifth class children, we went on a trip on the river, admiring temples and palaces on the ghats, looking at the many activities on the banks of the river and at the pilgrims who were purifying themselves with the water of Mother Ganga, very often among garbage and plastic.
Ghat on the river
At the ashram too we built a beautiful boat, modeled by skillful boatmen who had been working without a break and with great competence.
Boat on the stocks
We stopped at Dasaswamed ghat and, after having lunch all together in a nice restaurant, to the great surprise and happiness of the children for our choice, we went and visit the Benares observatory.
At the restaurant
Waiting at the tables
In India there are four observatories, in Delhi, Jaipur, Varanasi and Bombay.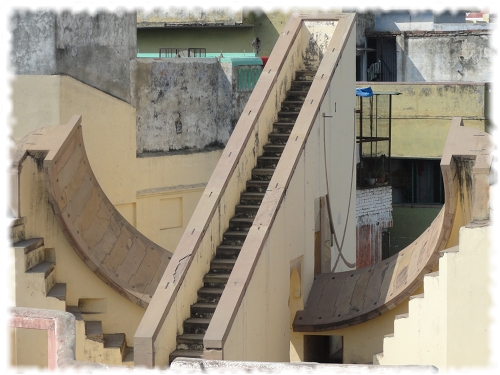 An istrument at the observatory

Everyone was curious and asked many questions to the guide who answered patiently telling the story and the use of the observatory and, after a stop at Harishchandra ghat and Manikarnika ghat, we came back to the ashram.
Manikarnika Ghat
As always, we found the time to clean the bank of the Ganges explaining to the kids how important is to keep the river and its banks clean, so during their spare time many of them formed groups armed with rakes and bags to collect plastic, even if they knew that after a while the bank would be covered again with garbage we would clean up again; the Mother Ganga needs help!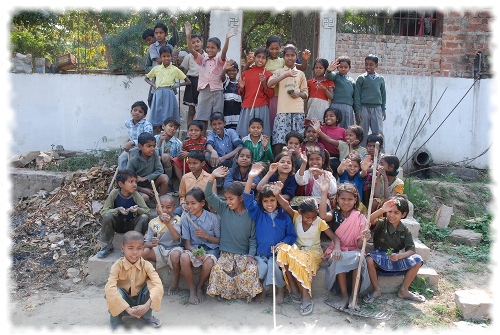 Little refuse collectors
Garbage collected by the kids
The garden is a riot of colors and perfumes, roses, cornflowers, poppies, daisies, carnations, dahlias of every size, inducing the eyes to stop for a moment to admire their beauty, a call for the children that sitting on the grass are doing their homework, music classes and even geography can become very interesting and colored!
Studying in the garden
We hired other new teachers, so now all the classes are numerically balanced, especially the classes of the littlest kids where teachers have to constantly look after and be patient with every kid.
Studying on the grass

I am happy to tell you that Sunita, one of the girls who have begun their school adventure with us, followed by us during her whole growth process , will go to the university this year!
Sunita has become a beautiful girl, she is responsible and very motivated, always busy with books and school, determined to build her future by studying, working and by her will.
Her parents, fishermen and illiterate, have allowed us to decide at best on her life and future leaving us free in every decisions we made and leaving her free to study and live in the ashram when she isn't at school, so we have achieved this beautiful goal together!
Sunita
Many of our girls and boys go to lower and upper secondary school with good results and a lot of will to study, convinced that their choice will make them live their future with awareness and dignity.
Geography and colours
In the ashram there are always many people, a lot of work, many news, days pass slowly fast and every night looking at the starry sky inducing to rest I say to myself:
"Smile, life is beautiful!"
Gururatna