Guru Purnima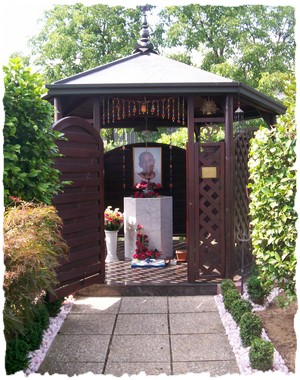 The Samadhi of Shri Aghoreshwar in Italy
Some members of ours, Pinuccia, Patrizia and Viviana wanted to share their inner experience about Guru Purnima day:
The Aghor Dhuni
This magical day started like this, emotions affected and marked my being indelibly. Joy filled my heart all day, I felt that Baba was near and present, I was motivated and full of happiness even though I hadn't  got rid of the tiredness of the week yet. I was in a deep emotional state, everything seemed wonderful and when we gathered all together to listen to the words that Babaji gave to us once again, immediately I realized how important our family, our action and our daily effort are, not only to help poor people and Indian children but also to improve our being. We must be just and unselfish, we must have willpower and mustn't be afraid of the necessary effort. 
Souls of light we must be, as Baba always reminds us, and despite a few misunderstandings, we put heart before words and action before inaction, so that our strength of mind can always support our actions.
Another moment of great joy was when Ivana and Adele came in the Samadhi with us. They are two kindly souls who have always helped Sarveshwari Samooh family rise with their constant care. I have always considered them as sisters but in that juncture I felt them more than usually seeing that this was the right place for their being. I was happy to pray with them, it was the first time it happened. I think that the great worth of prayer is to unite souls and protect them from all the doubts and prejudices which unfortunately  undermine everyday life.
The final havan was intense and as touching, I felt Baba was constantly there with us and when in the end we hugged I had the feeling that also this little act had been inspired by him. We hadn't done it for a long time.
It was a special and touching day with Baba's constant presence, unique dimension, perfect state of mind felt in a natural, aware and rational way, heart brimful with joy, immense happiness and gladness at the thought that my family and I are very lucky to have made the right choice, following this path, certain of being able to live this life of dream having by our side the divine to guide, improve and inspire our actions.
I thank and am really grateful to the divine for this chance.
I fraternally wish you all the best,
Pinuccia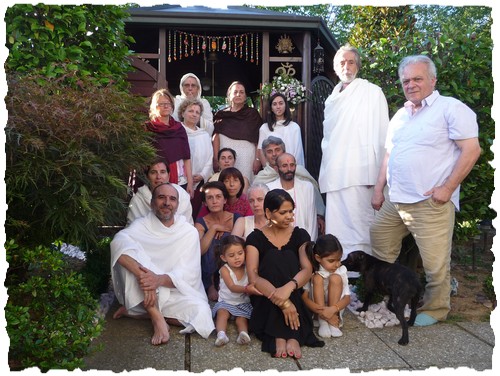 Some of the members during Guru Purnima
I must say it was a very pleasant day, peaceful and relaxing, as it hadn't been for a long time, and finally I was at peace with myself.
For the first time my mind was completely free from thoughts and worries, just for a moment the thought of my children have struck me so much so that I went home to check everything was right but after Gururatna called and told me not to think always of them, immediately I came back; my children were astounded but I was happy instead. Then I had the feeling that finally, after many years and selections, we have succeeded in being a really close family, in these years we have learnt to know, judge and love each other, having all our bad habits and good qualities.
The height of the day were Baba Aghoreshwar's words, it is always a pleasure for me to listen to them.
I have felt this state of wellbeing for the whole week.
Thanks,
Patrizia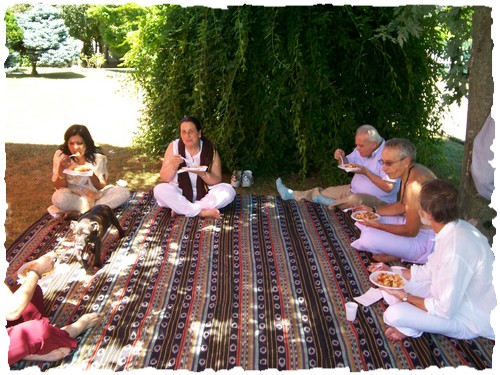 Guru Purnima Prashad
Thoughts about Guru Purnima
A windy Saturday cleaned the sky that now it is blue as it hadn't been for some time. The day is very clear and full of light.  The Samadhi is a riot of flower. The rose quartz pebbles which outlines its contour have soft shades which change every time you look at them and become deeper or brighter depending on how the sun hits them.
The dhuni is open. The fire is burning and has been blazing since the night before. The atmosphere is serene. You can feel an intense emotion that at the same is time almost contained, maybe out of reserve, because, you know, deepest things are hard to express. 
It's a day of homage and celebration which allows us to slow down, stop and reflect on our attitude and on how we should be, always, in our everyday life, and not only during feasts. The words I am thinking of are: concentration, perseverance, attention, willpower, feeling, devotion. In our heart, in our  thoughts, in our words, in our actions, it should be Guru Purnima every day.
Viviana