Guru Ratna with some kids, Holi
The Ganges flows slowly, fishermen cast their nests without a break and the sight of  Adi Kesava temple, on the opposite bank, takes far away into the consciousness of a perpetual experience in this timeless place that gives vision and brings into the true reality we often don't understand and don't live, confused as we are from life of dream.
The bright green of the garden merges with the variegated green of our fields and of our vegetable gardens planted with lentils, onions, cauliflowers and many more local vegetables, everything without any chemical fertilizer.
The guys in the vegetable gardens they cultivate
This year the crop of mustard, from whose seeds we extract oil, was abundant and the kids also start tasting what  they have cultivated in the small vegetable gardens on the bank they created and watched personally.

The fruits of their work…
The snake-charmer (saphera) who has know us for years passed and, after showing his cobras to us, knowing that he always draws our attention, curiosity and generosity, arranges to meet us on the next festival of snakes (Nag Panchami).

One of the cobras the saphera (snake-charmer) brought
Sadhus, as well as him, know that they can always take refreshment and in case stay overnight at the ashram.

The works for completing the fencing on the river, on the side of the school, go on and smiths, beside forging the iron for the fencing by hand, have found the time to build a new swing, too.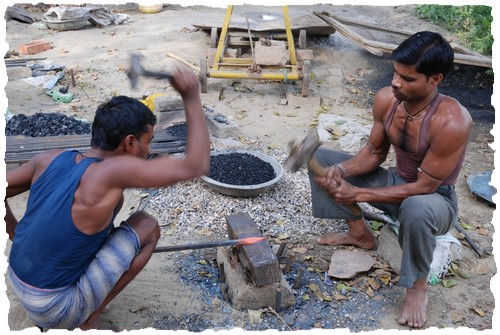 We bought some new bikes for the girls who will go to high school in town, as we have already did with the previous group.

Some of the girls with their new bikes
Days fly through a thousand activities, in the afternoon the kids spend much time studying music and playing the new harmoniums, tablas and guitars recently given to them, eagerly waiting for Holi that at the end has come with an uncontrolled explosion of colors.

Two of Ganges famous bluesmen, Kashi
Holi is celebrated with joy and cheerfulness all over India, the festival lasts a few days and everyone, kids as well as elderly persons, get involved.

Obviously we celebrated it, too, starting with a big bonfire in the evening, burning mustard stubbles, then the older guys played and sang.
The day after was a mega colored day with attacks and fights based on vegetable powders with very many shades of  green, yellow, red, blue and pink, a shower of a rainbow with bright tones that spared nobody, and cheerfulness infected quite everyone, leaving us covered with a thousand colors!
Namasté
Guru Ratna