Nanda Kumari Diwas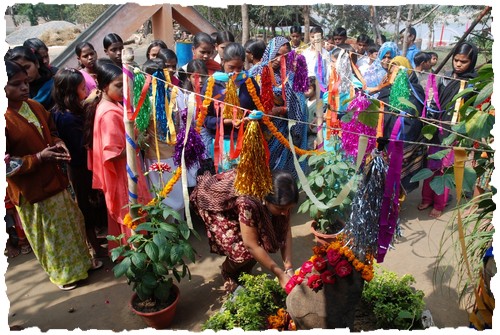 Schoolmates and moms commemorate Nanda Kumari
In the fog we could hear only crows croaking and kids talking, then very slowly the fog gave place to the first sunbeams and we set off together for the Ganges where a big boat was waiting for us.
Guru Ratna and Nanda's schoolmates make an offing on the Ganges
We had prepared a long mala (garland) of flowers and leaves, a lot of rose petals, fragrant jasmine flowers, bright orange marigolds and incense.
Delicious cream sweets for everybody…

It was a special day, as every year we wanted to commemorate Nanda with a puja on the Ganges and with a beautiful party at school. Nanda was in fifth grade at our school and three years have passed since her body had been left in the river with no rite from her family.
…that kids taste very slowly

The kids arrived, happy to come with their parents and spent the day with them. After a delicious breakfast with cream sweets, a lunch with sabji, puri and a tasty kir the show started with dances, songs and two theatrical performances about social subjects.
Our kids' school play

The kids have practised a lot with the help of their teachers and the performance was very good, until evening music involved everybody, a band of musicians and singers contributed with traditional instruments and songs, enthusiasm infected all the people present.
It was a long, happy and beautiful day!
Namasté.

Guru Ratna