Mahanirvana Diwas on the Ganges
The Hospital, night of Mahanirvana Diwas
Dear friends, here I am telling you what happened in the last days. Sunday, November 29 was Mahanirvana Diwas day, dedicated to the memory of Shri Aghoreshwar's life. On November 29 1992, He left His body and entered Nirvana. Association Pujya Maa Shri Sarveshwari Seva Sangh have celebrated the Master since 1998, its foundation year, while the italian association Shri Sarveshwari Samooh Italia have commemorated the Master since 1993 at Samadhi of Mezzago (MB).

Prashad served to kids, Mahanirvana Diwas
On the eve there was a flurry for the last preparations. People were starting to come, while victuals and necessary tools were unloaded from vehicles and arranged, floral decorations and lights were hung on the temple and on the hospital. Seventy people stayed for the night.

Ganesh Pith decorated

In the morning, Anil Baba and me performed Havan, Digbandhan and Ganga Pujya. We hosted the association's flag and we did aarti together with those present, then a first breakfast was distributed.

Womens and girls preparing Puri

Some of our boys and girls were singing Aghoranna Paro Mantro accompanied with harmonium, and, with this background music, we started to welcome the  many guests who were arriving. Many of them were coming from the nearest area and provinces, but many others were coming even from other states such as Bihar, Jharkand, Madhya Pradesh, Bengala, etc.

Shri Aghoreshwar Gurukul, morning breakfast

We had lunch with the people present then, at four in the afternoon, the manifestation moved inside our school, crammed with people as usual.
Girls of third and fourth class in show

After the words of welcome by the lawyer B.N. Singh, our doctors greeted the people. Doctors P.K. Singh, A.K. Mishra, R.K. Singh, R. Singh, Praveen were present with their families. Ashok Choubey, residing in the U.S.A. and Shri Aghoreshwar's disciple, was present too. He was with us that November 29 1992 in New York. Anil Baba and me wound up the speech with our personal reflections.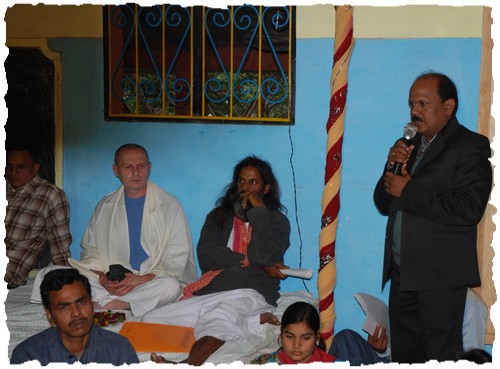 Dr. P. K. Singh at the meeting

Children and boys then took over the stage, performing dances and plays they rehearsed for a long time. From the youngest to the oldest ones, they performed a never-ending show the audience really appreciated. Musical bases and bhajans (Hindi devotional songs) accompanied the dances of the many groups alternating on stage, while various funny sketches, played by the kids, mocked the outdated habits and vices of society. In particular one pointed to the deplorable alcohol abuse, a widespread plague amongst the poorest social classes. The show went on for about four hours, but for the kids it was not enough! They would have been stayed longer watching, singing and laughing for hours and hours.
Class fourth dance

Then the guests who were staying for the night, more than two hundred, had dinner. Kirtans and spiritual bhajans in honour of the Aghoris continued in the school till very late, while echoes of Aghoranna Paro Mantro, sung for twenty four hours, were coming from Baba's Samadhi.

Ready from morning…

It was a very serene day, favoured by the mild and sunny winter, spent in peace and happiness, especially for the children. More than three thousand meals were served. The Dhuni, lit for Havan, has been kept burning till the next morning, when visitors started to leave Siddhapith unwillingly.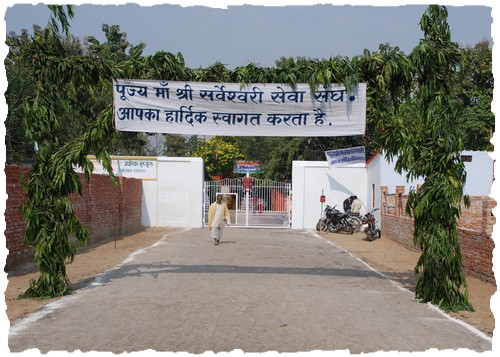 The gate of Siddhapith the day before

Daily school activities go on as usual. During this period sweaters have been distributed to the kids because now cold is coming. Milk and biscuits breakfast was reintroduced and additional books were distributed to the third, fourth and fifth classes. Sleepers and shoes were given to those who were lacking.
The temple at night

Our friend's daughter is teaching girls how to sew puppets and dolls. Absorbed by a great interest, soon they brought out their first creations, really not bad.
Puppets made by girls

Hospital, besides opening eyes operations season, draw up the annual activity report, that I will notify you soon. I can tell you in advance that, even this year, many are the people who benefited from the cares of our admirable staff.
Books distribution

In this season flowers, plants and greenness in all its tones adorn Siddhapith and gladden the eyes, while countless birds fill the air with their singing.

Staring at the beautiful bloom of the Poinsettia we remember you all and send our greetings.
The show