Dear Friends,
I've been in Varanasi since May 10th and the hot summer here is at it's peak. I am writing to update you about the ashram once more. The school year ended on May 21st and all the children managed to pass.
In these last days, in order to break the tension and the increasing heath, the children were give more freedom. They decided to organise picnics, cooking
and eating at the school, under the supervision of Anil Baba and the other teachers. Some of the children were born to street food vendors, and at home help out the parents prepare what their need for their small business.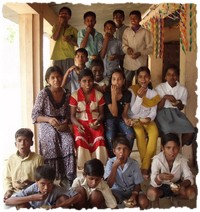 Despite being very young, these children could replace their parents in their businesses if needed. As such, it was not too difficult for them to cook and munch on something all together, in a safe environment like the ashram, planning for a different menu every day. It has been a great fun for everyone and every day, at midday, they would give us a sample of what they had prepared.

On the 21st we organised a party to celebrate the
end of the school and transcripts. Due to the heath the milk had been substituted with fresh fruit in the past weeks, and the children geared up on vitamins.
The hospital keeps up with the weekly routine. The number of the patients generally decreases in this time of the year and surgery is carried out only if en emergency arises. No camps are organised in this season.
The external wall to contain floods is currently being built; the work on the river bank goes on well. This new construction is over 80 metres in length and required 44 pillars linked by a stone and concrete band. This new band is instrumental for the new wall, and will cover the old one as well. Some of our first pupils, now boys, asked us to be able to partake in this work. It will soon be completed.
I will update you as soon as new events will take place.